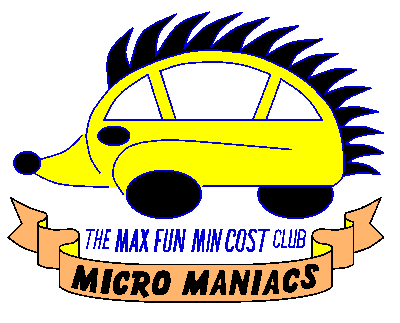 The Micro Maniacs Club is the friendly and fun club for microcar owners and enthusiasts.
You don't need to own a microcar to join the Micro Maniacs Club – just bring your enthusiasm to a Club meeting!
We welcome microcars of all makes and types, both classic and new, and enthusiasts of all shapes and sizes – both young and old.
small cars under 700cc (3 or 4-wheeled)
bubblecars/microcars, both classic and modern
any other 3-wheelers or unusual vehicles in a 'small' way
using your micro car or want to meet others who have them – you don't have to own a car to be a member
attending rallies and shows
taking part in runs out and meets/camping weekends
giving help and advice to others, or needing help yourself
most importantly you want to enjoy yourself!
So, if you are interested in any of the following why not join us?
These are just some of the many types of micro cars out there – many of them have been or are currently owned by our members plus many, many more, too many to list.
AC Petite, Aixam, Ant, Ape, Autobianchi, Bamby, Bianchi, Berkeley, Bond Minicar, Bond Bug, BMW 600, BMW Isetta, Brutsch Mopetta, Champion, Citroën 2CV, Coronet, Cursor, Daihatsu, Fiat 126, Fiat 500, Fiat 600, Filby, Frisky, Fuldamobil, Ginko, Giotti-line, Goggomobil, Heinkel, Honda N600, Honda 700, Invacar, Kleinwagon, Kleinschnittger, Ladybird, Lomax, Lloyd, Maico, Mazda R360, Messerschmitt, Multipla, Nobel, NSU Prinz, Peel, Piaggio, Reliant, Rodley, Scammell, Scootacar, Smart Roadster, Spatz, Spider, Suzuki, Targa, Trabant, Triking, Trojan, Unicar, Velorex, Velum, Vespa, Zundapp.
Who are we?
The Micro Maniacs were formed as the East Yorkshire Micro Maniacs in 1989 when a few microcar enthusiasts in the East Riding got together to form a fun club.  The Micro Maniacs Club has grown and now has around 200 members located throughout the UK and some overseas members as far afield as New Zealand.
What do you get when you join the club?
We issue a Club Magazine The Magniac 6 times a year to keep up-to-date with news, events, sales and gossip in the microcar world.  New members will receive a selection of back issues of The Magniac.
We organise the Northern Microcar Rally which is one of the larger annual microcar events in the North of England, and our Clubs main event of the year.  Other week-end mini rallies and social activities take place throughout the year.
For members needing technical advice, our Technical Help is only a phone call or an email away.
We have our own Facebook page where members can keep up to date on the latest events and goings-on in the Microcar world. Photos of our Rallies and Events can be found there.
What does it cost?
Annual UK membership costs £12, overseas £19.  So why not join us and become a 'Micro Maniac'?  Details are on our Membership page.
Our membership year runs from January to December.  To show why we are the 'Max Fun Min Cost Club' if joining after 1st July, we are pleased to offer a special rate of £18 for an 18-month subscription. 
Members joining after our last rally of the season (usually mid-October) will have their standard membership of £12 carried over to the following year with no extra fee.
Member of the Federation of British Historic Vehicle Clubs
We are pleased to get visitors from all around the world!
Flag counter since 22nd March, 2010
Our website has been designed using WordPress.

We encourage comments, suggestions and feedback about our website (good or bad!)
please email Nigel at Webmaster
Website last updated on 1st December, 2023
This website uses cookies to allow us to see how the site is used.  The cookies cannot identify you.  If you continue to use this site we will assume that you are happy with this.  Find out more about our Cookie, Privacy & Data Protection policy here.